Change Document Archive Page & Archive Slug
What is an Archive Page?
An archive page displays a collection of content based on specific criteria, like date or category, to organize and present it in an easily accessible way. It's commonly used on websites to showcase past articles or products, improving website navigation and user experience by allowing visitors to explore and discover content based on their interests.
What is a Documentation Archive Page?
A Documentation Archive Page displays technical documents, user manuals, and other resources based on specific criteria such as topic, type, or version. It is commonly used by software or tech companies to organize and present information related to their products or services. This page helps users find and access the information they need, improving customer support and user experience.
What is a Slug?
A slug is a short, human-readable string of words or characters in a URL that identifies a specific page or post on a website. It helps create SEO-friendly URLs that are easy to remember and navigate.
For instance, in the URL "www.example.com/blog/my-first-blog-post", "my-first-blog-post" is the slug that identifies the specific blog post. Slugs are important for website navigation and search engine optimization as they provide a clear and concise description of the page's content.
How to Change Document Archive Page & Archive Slug?
You can choose your own page to show all of your documentation at once, which is called a documentation archive.
To set this up, you need to navigate to EazyDocs Settings General .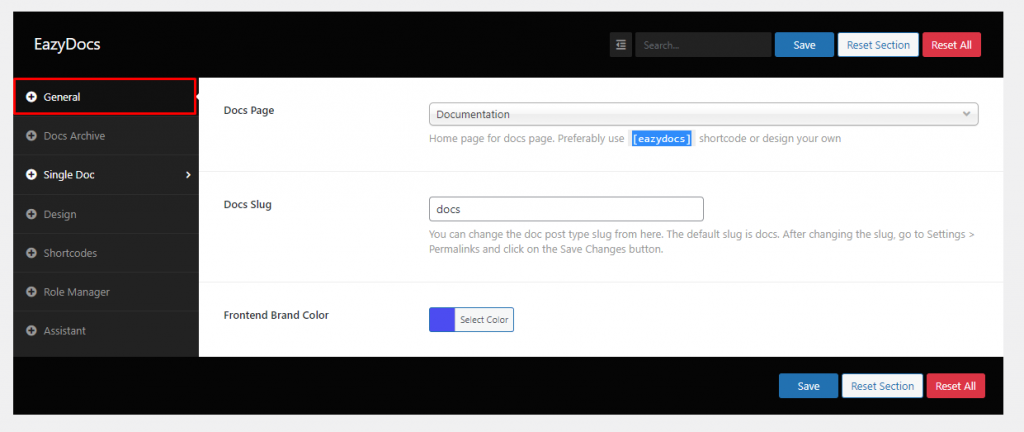 From here, you can also choose the documentation slug. This slug will appear on the single documentation page.
https://helpdesk.spider-themes.net/docs/eazydocs-wordpress-plugin/tutorials/how-to-create-an-article-in-eazydocs/
In the above URL, there is the word 'docs', which can be changed from the settings. You can also set the brand color from this setting.